Return to Previous Page


Additional Information
| | |
| --- | --- |
| Product Specification | |
| Brand | Dunoon |
| Product | Mug |
| Dunoon Shape | Cairngorm |
| Dunoon Design | Pattern |
| Material | Fine Bone China |
| Colour | Gold, Orange, Red |
| Height (cm) | 10 |
| Diameter (cm) | 10 |
| Base Diameter (cm) | 8 |
| Capacity (ml) | 480 |
| Net Weight (g) | 264 |
| Artist | Caroline Dadd |
| Special Features | Embellished with 22ct Gold, Not Microwave Safe, Not Recommended for Dishwasher Use |
Dunoon Nebula Red Cairngorm Shape Mug
Nebulae are truly wondrous things to behold and are the inspiration behind this elegant and sophisticated Cairngorm mug by Dunoon. Decorated to look like planetary nebula, this contemporary design by artist Caroline Dadd contains real gold leaf detailing to add a luxurious look to the pattern. The beautiful vibrant shades of red, orange, and black blend perfectly together and the motif is continued onto the handle, finishing this mug off perfectly. Ideal for morning coffee and afternoon tea, this stylish mug will make a wonderful gift for those aspiring astronomers or someone who simply sees the beauty of the design.
Real Gold Leaf
This mug is beautifully embellished with 22 carat gold adding an extra special touch and making it a great gift. This does however mean that it is not safe for the microwave, and not recommended for dishwasher use.
Cairngorm
Named after the Scottish Mountains of the same name, this design is a larger version of the Lomond shape mugs. It has a gentle slope to the body and a curved handle. With a range of fabulous designs to choose from this 'oversized' mug is a must. With a capacity of 480ml they are both dishwasher and microwave safe, with the exception of any mugs with gold embellishment.
Caroline Dadd
After working as design manager at Royal Doulton, Caroline took over her father's business and was able to continue working with Dunoon on mug designs, graphics, and packaging projects. She interprets many artists' work from Monet to Van Gogh including the Gustav Klimt inspired mugs, and created the fun, fact filled Informative Glencoe mugs.

Covid-19: Please allow extra time for delivery due to Royal Mail experiencing high demand.
UK Delivery
Standard delivery within the UK is charged at a rate of £3.99. Guaranteed, signed-for Courier delivery is available for just £6.99.
Delivery Class
Delivery Time
Delivery Charge
Orders over

£49.99

Standard Delivery
2 - 7 working days

£3.99

FREE*
Premium Delivery
1 - 4 days

£4.99

£4.99

Courier Delivery - Order by 2pm
Next working day

£6.99

£6.99
*PLEASE NOTE: Certain items are excluded from our Free UK Delivery offer. These items are clearly indicated within their product description and within the checkout process.
Personalised Gifts
Many Personalised gifts are excluded from our Free UK Delivery offer or any limited time offers as they are packaged and dispatched from a separate location. Personalised items may take longer than our standard delivery times, and Premium or Courier delivery may not be available. This information will be clearly indicated on the affected items.
95p shipping on Greeting Cards
Orders containing only greeting cards qualify for optional 95p UK delivery. These orders are sent using our Standard UK Delivery method. Please allow up to 5 days for delivery.
International Delivery
For international delivery, shipping price varies with spend. Fast, signed-for courier delivery by FedEx is also available to all international destinations.
North America
Our North America delivery region includes the United States of America and Canada
| | | |
| --- | --- | --- |
| Order Product Value | Standard International Price | FedEx Priority Delivery Price |
| up to £10.00 | £7.99 | £17.99 |
| £10.01 - £25.00 | £9.99 | £19.99 |
| £25.01 - £50.00 | £16.99 | £22.99 |
| £50.01 - £75.00 | £24.99 | £27.99 |
| £75.01-£100.00 | £29.99 | £34.99 |
| £100.01-£200.00 | Not Available | £39.99 |
| Over £200.00 | Not Available | £44.99 |
Europe
European delivery is split into two regions - European Union and Rest of Europe. Please see below for full details of country categorisation.
Order Product Value
European Union
Rest of Europe
Standard International Price
FedEx Priority Delivery Price
Standard International Price
FedEx Priority Delivery Price
up to £10.00
£4.99
£19.99
£6.99
£19.99
£10.01 - £25.00
£7.99
£24.99
£8.99
£24.99
£25.01 - £50.00
£9.99
£29.99
£10.99
£29.99
£50.01 - £75.00
£14.99
£34.99
£15.99
£34.99
£75.01 - £100.00
£19.99
£39.99
£24.99
£39.99
£100.01 - £200.00
Not available
£49.99
Not available
£49.99
Over £200.00
Not available
£54.99
Not available
£54.99
For delivery purposes, the European Union region includes the following 28 EU member states and European ministates:
Austria, Belgium, Bulgaria, Croatia, Cyprus, Czech Republic, Denmark, Estonia, Finland, France, Germany, Gibraltar, Greece, Hungary, Ireland, Italy, Latvia, Lithuania, Luxembourg, Malta, Monaco, Netherlands, Poland, Portugal, Romania, Slovakia, Slovenia, Spain, Sweden, Vatican City
Rest of Europe
includes Turkey and non-EU European countries:
Albania, Andorra, Belarus, Bosnia and Herzegovina, Faroe Islands, Greenland, Iceland, Liechtenstein, Macedonia, Moldova, Montenegro, Norway, San Marino, Serbia, Switzerland, Turkey
Australasia & Far East
| | | |
| --- | --- | --- |
| Order Product Value | Standard International Price | FedEx Priority Delivery Price |
| up to £10.00 | £7.99 | £24.99 |
| £10.01 - £25.00 | £9.99 | £29.99 |
| £25.01 - £50.00 | £16.99 | £39.99 |
| £50.01 - £75.00 | £29.99 | £49.99 |
| £75.01-£100.00 | £39.99 | £54.99 |
| £100.01-£200.00 | Not Available | £59.99 |
| Over £200.00 | Not Available | £69.99 |
Australasia & Far East includes:
Australia, Cambodia, China, Hong Kong, Japan, Korea (Republic of), Lao PDR, Macao, Malaysia, New Zealand, Philippines, Singapore, Taiwan, Thailand, Timor-Leste, Vietnam
Rest of World
| | | |
| --- | --- | --- |
| Product Order Value | Standard International Price | FedEx Priority Delivery Price |
| up to £10.00 | £7.99 | £29.99 |
| £10.01 - £25.00 | £9.99 | £39.99 |
| £25.01 - £50.00 | £16.99 | £49.99 |
| £50.01 - £75.00 | £29.99 | £59.99 |
| £75.01 - £100.00 | £39.99 | £69.99 |
| £100.01 - £200.00 | Not Available | £79.99 |
| Over £200.00 | Not Available | £89.99 |
Extremely rarely, in the event of unusually heavy or oversized orders going to overseas destinations, these shipping tariffs will prove insufficient to cover our costs. In which case we will contact you and request that you pay a postage surcharge to equal our specific shipping costs for your order.
Should you choose not to pay that surcharge we will refund your payment in full and cancel your order. Should we receive no reply to this request we will hold your order for seven days and then refund your payment in full and cancel your order.
Returns Policy
If you would like to return an unwanted or damaged item back to us please inform our customer service team at customerservice@campusgifts.com or 01494 790424 within 14 days of receiving the goods.

You will be asked to send the item back to us at the address below.

Campus Gifts
Unit 2E
Woodlands Farm
The Vale
Chesham
Bucks
HP5 3NS

If the product has been damaged or received incorrectly, contact our Customer Service team for a prepaid returns label. If however you have decided to return an item as it is unwanted please send this back to us at your expense, keeping a proof of postage.
Please ensure they are returned in perfect condition and packaged securely, because you will only be eligible for a refund once we have received the goods and confirmed they are in a re-saleable condition.

In order to process your return please include the following information:

- Your order number
- If you need a replacement or refund
- The reason for the return
- If the item is faulty please include exactly where the fault is on the item

All returns are processed within five working days of them being received and we will send you an email when we have processed your return and inform you of any refunds that have been processed. Please allow 1-5 working days for refunds to be processed back into your account.
Returns of Personalised Gifts
Due to the personalised nature of these items, we are only able to accept returns or offer refunds if items are damaged or faulty.
For more information, please go to our Terms and Conditions page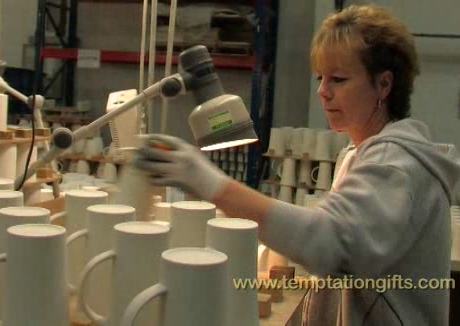 Established in Dunoon, Scotland, over 35 years ago, Dunoon are a market leader in fine bone china and stoneware mugs. Their shapes and designs are as sought-after around the world as they are here in the UK.
They source the majority of their clays from Cornwall, England, as it creates brilliant white and translucent Fine Bone China (we'll take their word for it), as resilient as it is beautiful. Dunoon still use traditional skills and methods to forge their mugs: their craftsmen use a process known as 'slip casting', which uses liquid clay – not machine-made – to achieve a finished mug that is fine to the touch, light to hold and a pleasure to use.
It's all well and good having a mug that works (i.e. doesn't have any holes), but if it doesn't look pretty then we're not interested. Fortunately, they're a little bit awesome at this too. They have a remarkably talented 'in-house' design team and a wide portfolio of gifted freelance artists, many of whom have been associated with Dunoon for over 25 years. Further proof, if it was needed, that Dunoon understand the importance of consistency and longevity when it comes to producing top quality products.
The mugs are all finished with high quality glazes, and prints guarantee accurate colour reproduction, ensuring none of the incredible detail or rich shades are lost from the original and intended design.
Throughout every stage of the manufacturing process each one of their products is handled by a skilled craftsman, maintaining Dunoon's reputation of nearly 40 years of excellence in pottery making.