Return to Previous Page


Additional Information
| | |
| --- | --- |
| Brand | Disaster Designs |
| Product | Travel Wallet |
| Disaster Designs Range | Petal |
| Material | Faux Leather |
| Colour | Black, Green, Grey, Multi, Pink |
| Height (cm) | 24 |
| Width (cm) | 15 |
| Depth (cm) | 2 |
Disaster Designs Petal 'Just Get Jet Set' Travel Wallet
Combine practicality with high fashion whilst on your travels with this stunning travel wallet from the Petal Collection at Disaster Designs, offering bright and bold design mixed with a huge amount of storage space for a myriad of storage, organising and fashion needs whilst away from home!
This travel wallet offers a tropical floral design as first glance, with a soft-touch leather effect material coloured in jet-black, detailed with a green palm tree display covering the surface. Once the wallet is turned over a vibrant contrast is found in the grey suede-effect design of the rear, offering an almost peach skin like feel to it, detailed with a small leather effect plaque reading 'PETAL' embossed into it.
Opened via the secure golden popper and black strap, the travel wallet reveals two sides. One side of the wallet houses 8 individual small pockets for the likes of money cards and 1 see-through pouch for the likes of a bus pass or ID, beautifully made from a striking brown-tinged light grey of faux-leather. Beneath this, 5 large pouches are found, detailed with names such as 'HOTEL', 'TICKETS' and more that are perfect for holding money notes, passports, ticket and receipts. The opposing side of the travel wallet is split into three sections, one for a passport, another for a pen and a final for currency, named 'coins'. The passport sections features a cream and palm tree green design of tropical plants with a covering see-through sleeve for holding your passport, with the cream coloured pen holder for practical use of a pen and a cream coloured pouch with suede-effect zip for the currency of the country you're visiting.
This Disaster Designs Travel Wallet would make a loving token gift for any woman who likes keep things organised and neat whilst travelling to any destination, whilst keeping the upmost stylish and fashionable. Great as a gift for going on holiday with, this travel wallet would make a smile-generating gift for that wow factor on Christmas Day.
Petal Collection
Combining delicate prints of cobalt blue and white, reminiscent of Chinese Ming Dynasty Pottery with vibrant, suede effect materials, the Petal collection from Disaster Designs offers striking fashion and accessories, with delicate floral and patch-work like colour block detailing found throughout each piece. The bold use of suede effect, dark magenta zip-pulls throughout the pieces adds class and sophistication, making each perfect for both worldwide jet-setting or as a whimsical addition to your home.
Covid-19: Please allow extra time for delivery due to Royal Mail experiencing high demand.
UK Delivery
Standard delivery within the UK is charged at a rate of £3.99. Guaranteed, signed-for Courier delivery is available for just £6.99.
Delivery Class
Delivery Time
Delivery Charge
Orders over

£49.99

Standard Delivery
2 - 7 working days

£3.99

FREE*
Premium Delivery
1 - 4 days

£4.99

£4.99

Courier Delivery - Order by 2pm
Next working day

£6.99

£6.99
*PLEASE NOTE: Certain items are excluded from our Free UK Delivery offer. These items are clearly indicated within their product description and within the checkout process.
Personalised Gifts
Many Personalised gifts are excluded from our Free UK Delivery offer or any limited time offers as they are packaged and dispatched from a separate location. Personalised items may take longer than our standard delivery times, and Premium or Courier delivery may not be available. This information will be clearly indicated on the affected items.
95p shipping on Greeting Cards
Orders containing only greeting cards qualify for optional 95p UK delivery. These orders are sent using our Standard UK Delivery method. Please allow up to 5 days for delivery.
International Delivery
For international delivery, shipping price varies with spend. Fast, signed-for courier delivery by FedEx is also available to all international destinations.
North America
Our North America delivery region includes the United States of America and Canada
| | | |
| --- | --- | --- |
| Order Product Value | Standard International Price | FedEx Priority Delivery Price |
| up to £10.00 | £7.99 | £17.99 |
| £10.01 - £25.00 | £9.99 | £19.99 |
| £25.01 - £50.00 | £16.99 | £22.99 |
| £50.01 - £75.00 | £24.99 | £27.99 |
| £75.01-£100.00 | £29.99 | £34.99 |
| £100.01-£200.00 | Not Available | £39.99 |
| Over £200.00 | Not Available | £44.99 |
Europe
European delivery is split into two regions - European Union and Rest of Europe. Please see below for full details of country categorisation.
Order Product Value
European Union
Rest of Europe
Standard International Price
FedEx Priority Delivery Price
Standard International Price
FedEx Priority Delivery Price
up to £10.00
£4.99
£19.99
£6.99
£19.99
£10.01 - £25.00
£7.99
£24.99
£8.99
£24.99
£25.01 - £50.00
£9.99
£29.99
£10.99
£29.99
£50.01 - £75.00
£14.99
£34.99
£15.99
£34.99
£75.01 - £100.00
£19.99
£39.99
£24.99
£39.99
£100.01 - £200.00
Not available
£49.99
Not available
£49.99
Over £200.00
Not available
£54.99
Not available
£54.99
For delivery purposes, the European Union region includes the following 28 EU member states and European ministates:
Austria, Belgium, Bulgaria, Croatia, Cyprus, Czech Republic, Denmark, Estonia, Finland, France, Germany, Gibraltar, Greece, Hungary, Ireland, Italy, Latvia, Lithuania, Luxembourg, Malta, Monaco, Netherlands, Poland, Portugal, Romania, Slovakia, Slovenia, Spain, Sweden, Vatican City
Rest of Europe
includes Turkey and non-EU European countries:
Albania, Andorra, Belarus, Bosnia and Herzegovina, Faroe Islands, Greenland, Iceland, Liechtenstein, Macedonia, Moldova, Montenegro, Norway, San Marino, Serbia, Switzerland, Turkey
Australasia & Far East
| | | |
| --- | --- | --- |
| Order Product Value | Standard International Price | FedEx Priority Delivery Price |
| up to £10.00 | £7.99 | £24.99 |
| £10.01 - £25.00 | £9.99 | £29.99 |
| £25.01 - £50.00 | £16.99 | £39.99 |
| £50.01 - £75.00 | £29.99 | £49.99 |
| £75.01-£100.00 | £39.99 | £54.99 |
| £100.01-£200.00 | Not Available | £59.99 |
| Over £200.00 | Not Available | £69.99 |
Australasia & Far East includes:
Australia, Cambodia, China, Hong Kong, Japan, Korea (Republic of), Lao PDR, Macao, Malaysia, New Zealand, Philippines, Singapore, Taiwan, Thailand, Timor-Leste, Vietnam
Rest of World
| | | |
| --- | --- | --- |
| Product Order Value | Standard International Price | FedEx Priority Delivery Price |
| up to £10.00 | £7.99 | £29.99 |
| £10.01 - £25.00 | £9.99 | £39.99 |
| £25.01 - £50.00 | £16.99 | £49.99 |
| £50.01 - £75.00 | £29.99 | £59.99 |
| £75.01 - £100.00 | £39.99 | £69.99 |
| £100.01 - £200.00 | Not Available | £79.99 |
| Over £200.00 | Not Available | £89.99 |
Extremely rarely, in the event of unusually heavy or oversized orders going to overseas destinations, these shipping tariffs will prove insufficient to cover our costs. In which case we will contact you and request that you pay a postage surcharge to equal our specific shipping costs for your order.
Should you choose not to pay that surcharge we will refund your payment in full and cancel your order. Should we receive no reply to this request we will hold your order for seven days and then refund your payment in full and cancel your order.
Returns Policy
If you would like to return an unwanted or damaged item back to us please inform our customer service team at customerservice@campusgifts.com or 01494 790424 within 14 days of receiving the goods.

You will be asked to send the item back to us at the address below.

Campus Gifts
Unit 2E
Woodlands Farm
The Vale
Chesham
Bucks
HP5 3NS

If the product has been damaged or received incorrectly, contact our Customer Service team for a prepaid returns label. If however you have decided to return an item as it is unwanted please send this back to us at your expense, keeping a proof of postage.
Please ensure they are returned in perfect condition and packaged securely, because you will only be eligible for a refund once we have received the goods and confirmed they are in a re-saleable condition.

In order to process your return please include the following information:

- Your order number
- If you need a replacement or refund
- The reason for the return
- If the item is faulty please include exactly where the fault is on the item

All returns are processed within five working days of them being received and we will send you an email when we have processed your return and inform you of any refunds that have been processed. Please allow 1-5 working days for refunds to be processed back into your account.
Returns of Personalised Gifts
Due to the personalised nature of these items, we are only able to accept returns or offer refunds if items are damaged or faulty.
For more information, please go to our Terms and Conditions page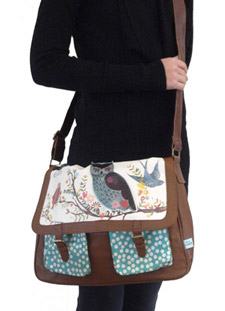 Welcome to the fashion world of House of Disaster (also known as Disaster Designs) - the company behind best-selling ranges like Paper Plane, In a Nutshell and Hi-Kawaii.
With over 20 years of textile design experience, Disaster Designs never fail to come up with new, funky and simply gorgeous bags and fashion accessories. You can now enjoy a wide selection of their most popular ranges, including brand new collections.
Born in the summer of 89 in a haze of tie dye and a tangle of dream catchers, Disaster has reinvented itself through the trends and fads of the last 20 plus years, defining itself always as a lover of quirky and unusual things.
Always true to the current trends and fashion must-haves, each collection from Disaster Designs is unique, decorative and aimed at stressing one's individuality. With designs ranging from vintage inspired Paper Plane & Dandy, through the elegant Songbird to the completely distinctive Hola range, you are sure to find something you'll love and show off whenever you're out and about.