Way back in the olden times, before electricity, batteries and iPhones, people had to make light using that most old fashioned of things: fire. It was a bit impractical to walk around your home carrying a massive fire, and hence candles were born. (I'm pretty sure that's how it happened.)
Some 40 years ago, Yankee Candle began creating their own candles, and have been producing fragrant, colourful products ever since. Although you can enjoy their fragrances all year round, there are some that lend themselves perfectly to these warm(er) summer months. So let our knowledgeable words guide you as we highlight a few of their best Summer Scents for you to sample...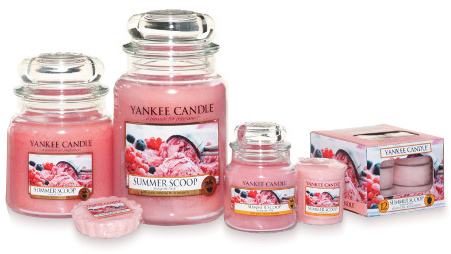 Okay, so this one's a bit obvious but it's as good a place as any to begin. The dazzling pink of Summer Scoop conjures delicious memories of creamy, home-made strawberry ice cream on a hot summer day. This fruity aroma captures all the juicy sweetness and tanginess of sun-ripened fruit, for a natural and mouth-watering experience. The question is: one scoop or two? But seriously, don't try and eat it - we got carried away and the results were not pretty. You can sample the fragrance by buying a Sampler Votive candle for only £1.26 to discover whether it's to your tastes!
If you're of the more floral persuasion, then Honey Blossom is a fresh, floral scent that you're certain to enjoy. The fragrance is a beautiful blend of flower nectar, honey musk, freesia and woods, making for a full but delicate aroma. Like spring in bloom, this floral scent is alive with the beautiful and alluring essences of fresh, fragrant garden flowers. Be sure to check out this pack of 12 tealights for only £4.73: you can place them all around the house and ensure the breezy honey blossom fills every room in your home.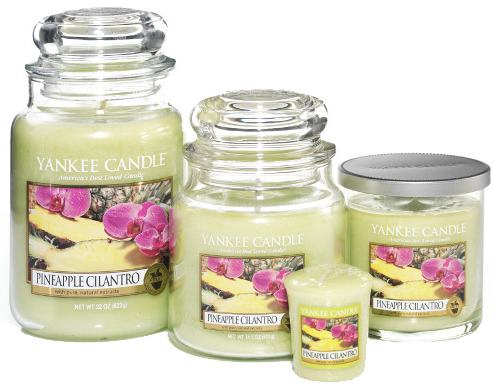 For the fruity among you (which should be everyone), Pineapple Cilantro is a Summer Scent certain to tingle your taste buds - again, please don't eat it. The fragrance is a real tropical treat. Fresh, island pineapple served with a citrus touch of cilantro and sweet coconut, this scent will have you pining for palm trees and sunshine - I wish I was on holiday already... The fruity aroma captures all the juicy sweetness and tanginess of sun-ripened fruit, for a natural and mouth-watering experience! The classic large jar candle has a burn time between 110-150 hours, meaning you'll be enjoying that tropical feeling in your home for a long old time.
Our final suggestion for a fantastic Summer Scent is Sun & Sand. This fragrance combines a tropical beach breeze of sweet orange flower, lemony citrus, fresh lavender and powdery musk. In short, it transports you straight to the beach - or straight to the Algarve in Portugal according to our Fulfilment Manger, Sara. As well as enjoying the aroma around your house, you can also take it with you on the road. This Sun & Sand air freshener, for only £1.58, is ideal to hang from your rear view mirror, meaning that wherever you live and wherever you travel, you'll never be too far from the beach.