For anyone who doesn't know by now, Tuesday 12th February is Pancake Day - or, more accurately: Waldo Pancake Day!
This important milestone in the calendar is a day we all come together to celebrate our love of all things Waldo Pancake, and also make (and subsequently eat) some pancakes while we're at it!
Have a look at our video below for some helpful (/unhelpful?) guidance to steer you in the right direction on the big day.

Quick and Easy Pancake Recipe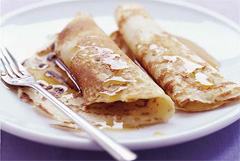 Makes 12-14 Pancakes
Ingredients
110g/4oz plain flour
2 eggs
200ml milk mixed with 100ml water
50g/2oz butter
pinch of salt
To Serve (Optional)
sugar
lemon
maple syrup
jam
cinnamon
anything else you fancy
Method
1. Sift the flour into a large mixing bowl. Make a small dip in the middle and crack the eggs into it and begin to whisk them in.
2. Gradually add the milk & water mixture bit by bit, mixing as you go. (Any lumps will soon disappear after some solid wrist-action whisking.)
3. Once the batter is smooth, melt half of the butter and mix. Use the rest of the butter to lubricate the pan, ensuring you don't use it all on the first few pancakes!
4. When the pan is super hot, turn the heat down a smidge and then ladel some of your batter into the pan. You can add more or less depending on how thick you like your pancakes.
5. Once one side is golden, toss the pancake gracefully.
6. Once the other side is cooked (and not on the floor), plonk it on a plate and cover in anything you like.

Enjoy!