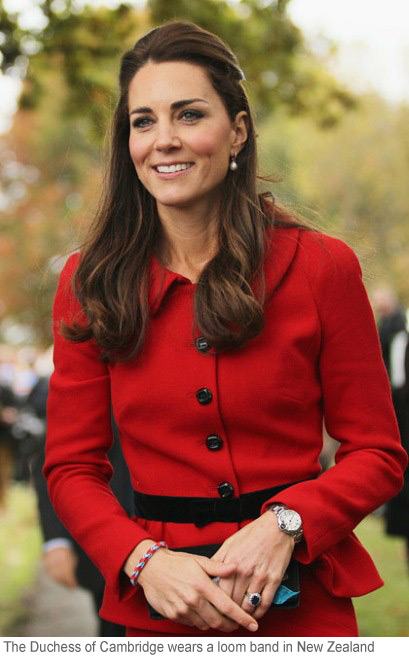 How long have you been saving up for one of those Jenny Packham wedding dresses? You know, just to wear about the house on a quiet Thursday evening? We've got a Terramundi pot in the corner of the office, if we keep saving for another 55 years we should FINALLY get to play at being the Duchess of Cambridge for the day… taking it in turns of course. But the news hot off the press this week, is that actually the princess experience can be yours for roughly £2 – it's loom bands, obviously!
Kate was photographed wearing a bracelet given to her by a tot during the royals' recent tour of New Zealand. And she's not alone in this fashion craze – if anything she's late to the party for once. Superstars like David Beckham, Harry Styles, Heidi Klum and even Miley Cyrus have been seen sporting the accessory of the season; not since Roland Mouret's legendary Galaxy dress was worn by Carol Vorderman and Cameron Diaz in the same week has one item united so many polarising stars. So what makes loom bands so popular?
If, at any stage, you are anywhere near one of the under-tens set (or over 35s – my brother in law is brilliant at it) then you will be familiar with these brightly coloured stretchy bands which, when wound round a plastic loom using something like a crochet hook, can be transformed into rainbow friendship bracelets. I've got my own must-have version, given proudly to me along with gappy toothed smile by my six year old niece. Yes, it pulls at the hairs on my arm because I don't have six-year-old-sized wrists, but I wear it with pride because I love that she is doing something so creative.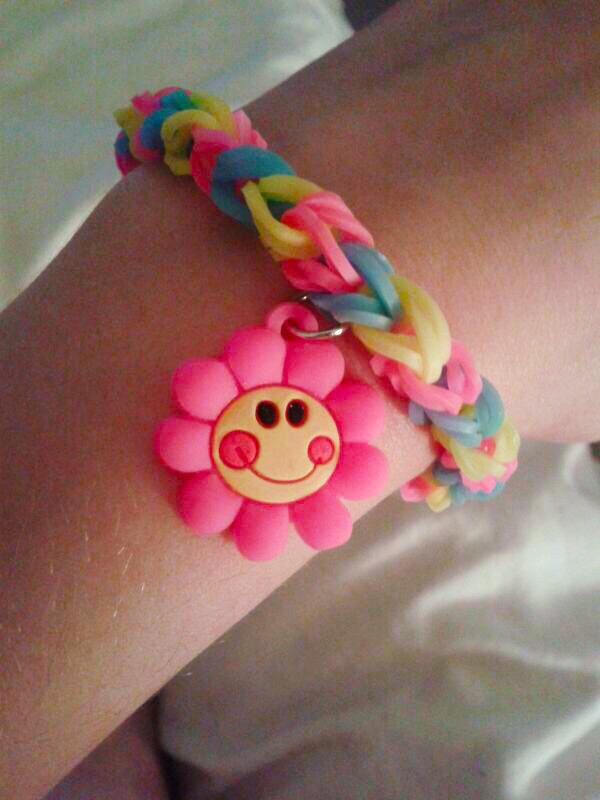 Children will spend hours twisting, pulling, hooking, and finally wearing these simple and easy creations. There has even been a spate of loom band parties (although I've never yet been in the right place at the right time to secure an invitation to one of these exclusive events), which must be one of the most genius ploys for a children's party I've ever heard. No worries about organising games of pass-the-parcel when you can have all 30 party goers sitting quietly and happily beavering away on the hottest summer 2014 style craze. And party bags? Forget about it, they're all going home with a new range of their own custom designed jewellery.
Also the possibility for improving on the basic skill is quite astounding. The loom band potential has become viral in recent months, with full outfits being created entirely from the tiny bands. US talk show host Jimmy Kimmel appeared on air in a spectacular loom suit (or "Suit of the Loom") and the suit was later auctioned off for a staggering $45,000 to raise money for the charity MaxLove. The charity supports families of childhood cancer sufferers in honour of seven-year-old loom-enthusiast Max Wilford in California, who has a rare form of brain cancer. Inspired by Max's love for the hobby, the suit was created by compiling thousands of bands woven together by legions of children and their parents after Kimmel appealed for them on his talk show.
You can see Jimmy's amazing suit in the video below, or on the MaxLove website, and here's evidence of crazy loom band potential!
And of course, if you're inspired to start your own Summer Autumn 2014 collection, you can get started with a Friendship Loom Set.
(And if you'd still rather have the Jenny Packham dress, start your own savings account!)
Beth