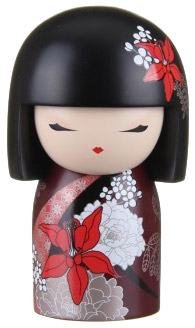 The new year is the perfect time for fresh starts. Be they physical, moral, aspirational, there's something inherently exciting about a fresh start. So even though January has ticked over into February, we thought there was still time for one more exciting rebirth...
By now, of course, you know we're talking about Kimmidolls. The dolls themselves are contemporary and collectable little things that combine a fusion of traditional Eastern culture and modern creative sensibility. The Kimmidoll brand has also branched out to include stationery, accessories and other beautiful bits and bobs, and we've been promoting it and selling it for years (in fact, they feature in our first blog post).
The dolls originate from the traditional Kokeshi doll from Northern Japan. Kokeshi dolls are characterised by their simple design of a large head with traditional Japanese features, and an elongated body with no arms or legs. In fact, the Mii avatars on the Nintendo Wii consoles were actually based on these Kokeshi dolls!
Traditionally the dolls were given to newborn babies as symbols of health and a long lasting life, but then carvers started selling them to people visiting hot spas in the country as charms promoting health and vigour, hence the Kokeshi tradition spread throughout Japan and people would give them as gifts to each other. From this, Kimmidolls were born.
And now, we are very excited to bring you the new generation of Kimmidolls. Brand new designs, brand new characters, brand new items... It's all brand new except, ironically, the brand. But these new Kimmidolls are sleeker and more stylish than ever before, and we're certain you're going to love them as much as their predecessors.
We have new Mini Dolls, Maxi Dolls, stationery, and bags and purses, much of which we decided to photograph with glorious rotational capacity, giving you every angle so you really know what your money is buying you. Have a look and take the shoulder bag below for a spin.
This new generation is here to stay, so get to know their personalities and decide which is the best suited to you. Meanwhile, we still have a limited range of the old generation of Kimmidolls for sale, so be sure to complete your collection of the older models while there's still time.
So we welcome you to the new and improved world of Kimmidolls. Check them out here and start collecting now!