It's always exciting when an existing brand reaches out into new areas of gifts and products. It shows ambition and creativity, which - by no coincidence - is what this piece is about!
Gorjuss is one of the best selling brands on our site, thanks in part to their huge depth of product. From high quality fashion bags to watermelon lip balm, they provide just about anything you can think of. Their latest range of product from Design Objectives is a wide selection of decoupage - arts and crafts that are beautifully and lovingly created.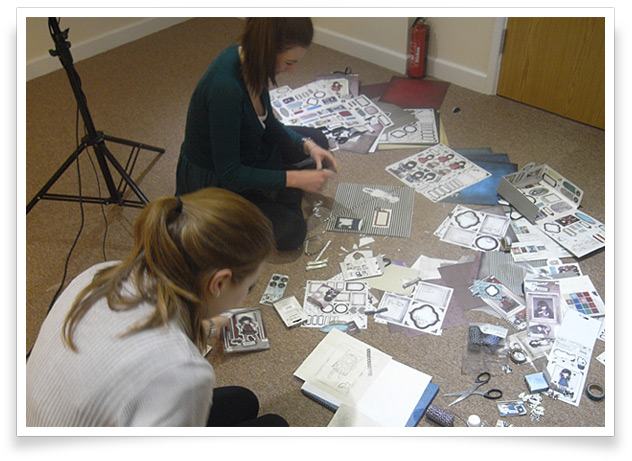 We created a bit of a mess in our photo studio...
Paper tape, packs of coloured paper, ink stamps, buttons, ribbon bows... Everything you could need to add a creative flair to your stationery, your room, or even create a work of art from scratch. Which is exactly what we did!
Three members of our product team managed to find a pocket of space in their schedules and spent a couple of hours creating their own mini masterpieces. You can see the pieces in question below, and judge for yourself which you think is the best... No pressure!
All of the pieces we used are from bits of the new arts and crafts items, so be certain to have a look at what's on offer here. In the mean time, we're going to don our art critic hat and have a look at what they made...
They each used the 12"x12" paper pack as the background, but they went their separate ways from there. Tom (or Teebs) created a layered effect with a piece from the 8"x8" paper pack, as topped by a purple sheet from the 6"x6" pack. He created some eye catching angles with paper craft tape and ribbon, accentuating the piece with buttons, a metal brad and some ribbon bows to create even further depth. The New Heights stamp takes centre stage to complete this rich masterpiece.
Claira decided to go stripe-tastic for her piece. Not only do the stripes take centre stage at the background, she has juxtaposed further stripes at perpendicular angles running down each side, by use of the patterned craft tape. A ribbon runs diagonally from left to bottom centre like a strip of celluloid, while a clever use of string and metal brad has created a gift tag effect. Further decorations adorn the piece, perhaps most strikingly the memory pocket in the bottom right corner that can be filled with little trinkets; in this case, a selection of lovely cut outs from the Getaway mini decoupage pack.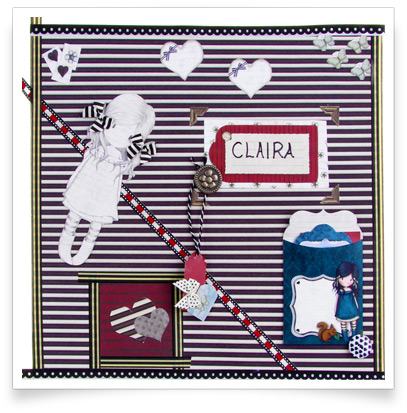 Finally, we have Lisa's work. Understated and elegant, the deep blue of the background is subtley brought to our attention through the borders at the top and bottom, a combination of different strips of craft tape. The beautifully cut-out Gorjuss girl from the New Heights decoupage pack grabs the eye's attention, as does the memory pocket with subtle ribbon bows. Arguably the greatest feature are the butterfly stamps in the top right, subtley flying off the page.