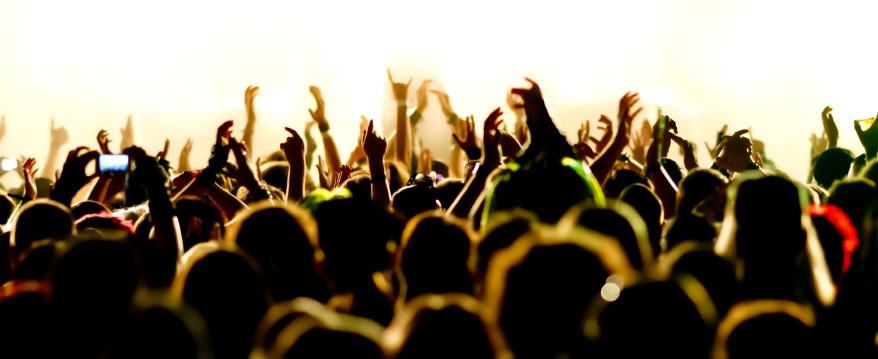 One of the great traditions of the British Summer is spending a long weekend in a muddy field somewhere listening to music and enjoying copious amounts of beer and cider. In other words: festivals.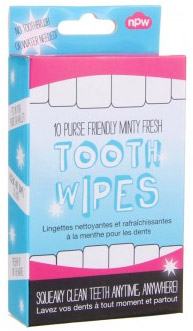 Whatever your choice of festival, it's an inevitably awesome, if exhausting, few days. Be it the chaos at Reading, the dance at Creamfields, or the all encompassing joy and madness of Glastonbury, we've come up with a small selection of essentials and not-so-essentials that are certain to make your festival experience even better.
1. Hygiene
If we're all being honest, one of the great things about festivals is that we can turn a blind eye to proper hygiene for a few days. So what if you haven't showered? No one else has either! (Unless you queued for the ice-cold eco showers, in which case you're obviously a cleanliness freak.) But it's still important to maintain a basic level of decency (at least during the first couple of days) and these tooth wipes are a handy temporary solution. Whether you've just woken up and have tent-breath, or have wolfed down a huge hog roast, you can have instant minty freshness with the use of a single tooth wipe. Guaranteed to go down well with the guy or girl you're trying to impress.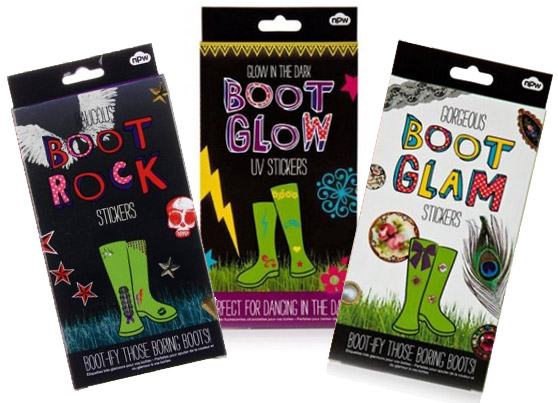 2. Footware
A by-word for festivals in the UK is, unfortunately,
mud
. Whether the chaos
last year at the Isle of Wight festival
or the
famous Glasonbury brown stuff,
the rain clouds always seem to turn up just when the bands start playing. So once you've got your pair of wellies you need to accessorise them. And we've got just the thing! These
Wellington boot stickers are UV
and glow in the dark, meaning your friends will always be able to spot you, no matter how big the crowd! We've also got Boot Rock (not another genre of music) and Boot Glam stickers, meaning there's something for everyone. Because as we all know, there's nothing more depressing than a plain pair of green wellies...
3. Hydration
A couple of us from the office have just come back from Glastonbury and, against all the odds (and undermining the previous paragraph) the sun shone. In fact, it got bloody hot and even the sun cream had to make an appearance. In such instances it's important to stay hydrated. Alcohol is good for many things (which we'll get onto later) but your body still needs plenty of water. We've got a
brand new selection of fantastic water bottles
that use an innovative carbon filter to get rid of all the impurities and other bad stuff. This is particularly great at festivals because the quality of water from taps around the site can vary, so it's good to know your Bobble Bottle is at hand. Don't say we don't do anything nice for you!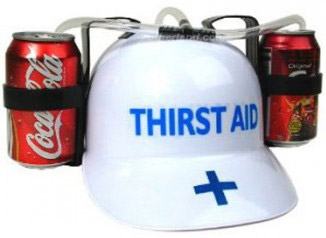 4. Hydration of Another Kind
Once you've made sure you're well hydrated with water, it's time to move onto the good stuff. When you're watching a band you might need your hands to clap along, wave in the air, or dance like a loon. But you also need a drink. This Thirst Aid hat is the only solution worth contemplating. Simply put a can of cider or beer into each of the holders and let the straw and your lips do the rest! You can even mix and match two flavours, leaving your hands completely free for the inevitable Gangnam Style.
5. Being Loud
Some people in life are born lucky, with the ability to wolf whistle at the greatest of decibels. For the rest of us, we need something to help us make loud noises of appreciation. This loud and in no way annoying horn could be the answer to your prayers. And it's currently HALF PRICE in our Summer Sale, meaning you'd be silly not to make this a part of your festival experience.