Wait! ….. What's going on? ….. Where am I? …..
Surprise! We've had a MAKEOVER to celebrate our 10th birthday!!
Yes, Campus Gifts is 10 years old, so we decided it was time for a makeover!! Don't worry, we're still the same CampusGifts you know and love, with all the great gifts and ranges we have always had, but we felt it was time to grow up a bit. So we have added hundreds of new products, and made a few improvements to the way the site works. If you want to know what's new, just keep on reading…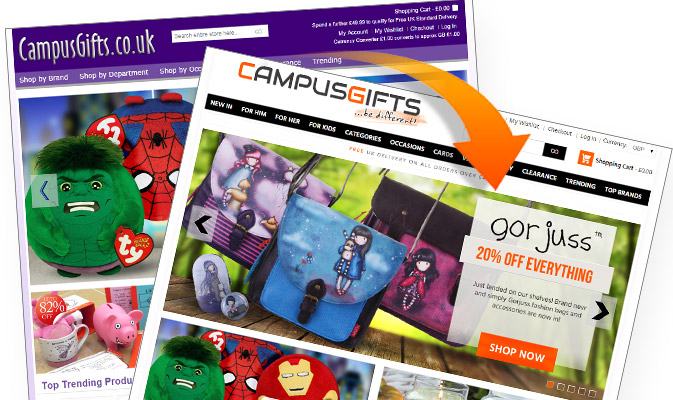 Orange is the new black… um, purple…
You can only wear the same suit for so long, so we have freshened up a bit. Out with the purple, and in with a cleaner, smarter look.
But our face isn't the only thing that's different! Our navigational menus have been overhauled, and we've introduced some brand new sections to save on your browsing time – now you can find the perfect gift faster than ever before.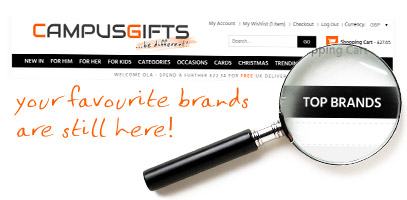 SHOP BY BRAND
If you are shopping for a particular brand, like Disaster Designs, Edward Monkton, Happy Jackson, or Gorjuss, and you want to find our complete range of those products as quickly as possible, just click on OUR TOP BRANDS on the top navigational bar, and you will find everything laid out as it was before.
FUNKY EDGY GIFTS
But, in addition we wanted to take CampusGifts back to its roots as a website for the young at heart, full of gadgets and gizmos and gifts that will make you stand out in the crowd and simply …be different! These great new products are spread throughout the site, and can be found either by looking in our CATEGORIES sections, or by looking under GIFTS FOR HIM, GIFTS FOR HER, & GIFTS FOR KIDS. But be careful, there are now some products you wouldn't buy for your mum ….
And if there is anything you can't find, just give our customer service team a quick ring (01494 790424) or send an email, and they will be glad to help. (customerservice@campusgifts..co.uk)
Check out our new speedier checkout!
Using our secure checkout is now faster than ever! You might notice a few extra improvements:
You can now check out in 4 quick and simple steps. Made a mistake along the way? No problem – simply click on the progress bar to go back to any previous steps.
The contents of your basket will be visible at every stage of the checkout, and you can edit your items at any stage, too.
You can now save your card details (which will be stored on a secure server held by our payment provider Sagepay – we never see your card details!) so when you order with us again, it will be even quicker!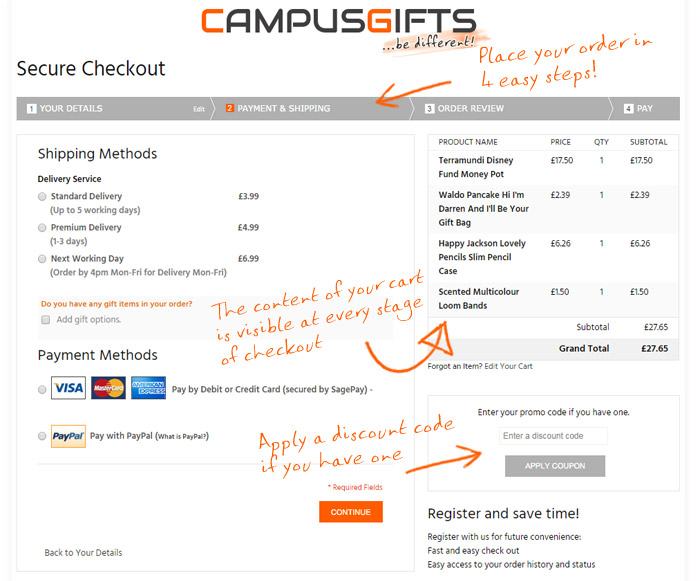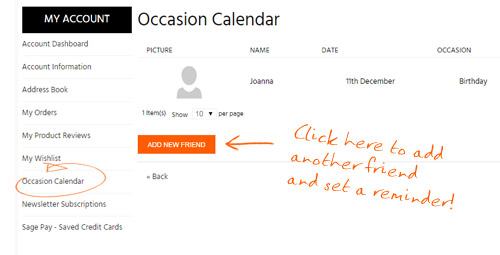 New Gift Reminder Service!
We all lead busy lives and forgetting about that special occasion is an easy thing to do. So we've created a GIFT REMINDER SERVICE. If you've registered for an account with us, go to "My Account" -> "Occasion Calendar" – and you can add all those important dates like family and friends' birthdays, anniversaries etc. When one of these occasions rolls around, we'll drop you a reminder email far enough in advance for you to scour our site for the perfect gift, and get it shipped in time for the big day. We'll turn you into a gift-giving hero in no time!
Same great service!
We hope you're just as excited about these new changes as we are! Don't worry, we're still the same CampusGifts with the same amazing customer service and dedication to you, our fantastic customers.
Now get out there and have a look around! Feedback appreciated, (yes good and bad). Either way, please let us know what you think! Drop us a note by email (customerservice@campusgifts..co.uk), or get in touch on Facebook or Twitter.
The CampusGifts team.