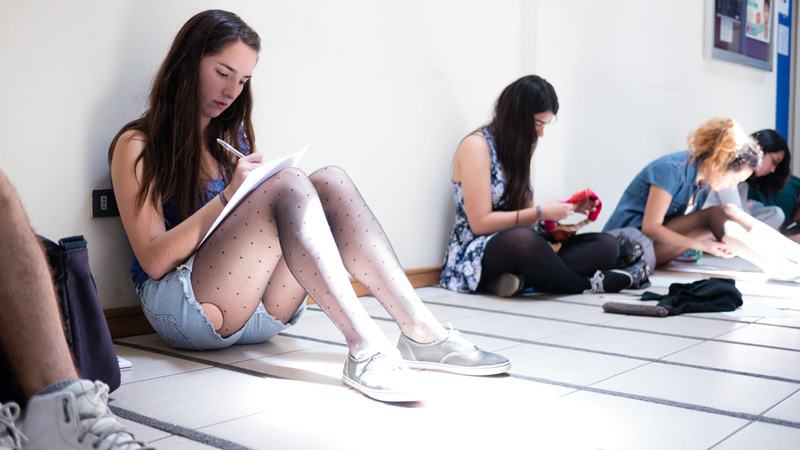 True Fact: It doesn't matter how old you are, everyone gets excited about buying new stationery.
Crisp, white notebooks waiting to be filled, pencils so sharp they could cut diamonds, and a bag so new that it's almost hard to imagine the lost coursework specs and forgotten snacks that you'll be finding in one of its many pockets in a year's time.
But here at Campus Gifts, we're not about regular, bog-standard, back-to-uni gear. No way. We don't want you tearing your hair out, stressing about your next exam – we're here to get you through university with ease, grace, and a few really bad puns.
First up, our brand new favourites… MadPax. Once you've dyed your hair four different colours and experimented with your wardrobe (your grunge/unwashed stage is nothing to be proud of), you're probably in need of a new concept. These uniquely designed backpacks are the new way to stand out in the hoard of bleary-eyed students at 9am on induction day – just try to stay awake long enough to let your potential new friends know where you bought it! They're definitely not "just for kids", and we've found the Instagram snaps to prove it!
Study Time Essentials...
Whistle Key Finder - You'll never lose your keys again... Until you forget how to whistle • Black Knitted iMusic Hat - Go on, you've earned the right to be antisocial • Hydra Desk Lamp - Mythology for the best and the brightest • Vitapen Highlighters - A little pen in a little pill • Happy Jackson Pen Orgy Pencil Case - Just for kicks • Pencil Sharpener Desk Tidy - Fix up, look sharp • Blue Pen Touch Screen Stylus - Give your thumbs a break, just this once • Cloud Storage Box - Keep all your valuables in one place, just don't tell anyone about the secret compartment... •
Sanity Restoration...
Pug In A Mug - Pretty self-explanatory, really • Touch Speaker Boom Box - Music, as if by magic • Ninja Mug - What was that? I could have sworn there was tea here a minute ago • Beer Shower Gel - Because it's not already seeping through your skin... • Light Saber - For the Dark Side in all of us • Friendship Loom Set - Don't go back to class without a Loom Band! • Das Horn - Because... you can. Why else? • Travel Lens Mug - For camera buffs who love to freak people out •
Obviously we'd recommend every single item here, but if you don't have at least 5 of these, you might not survive the first term... Don't say we didn't warn you!
Goodbye and Good Luck,
Alex
Image Credit: Header image: Francisco Osorio. All Instagram images were found by searching the hastag "#madpax" and all images link back to the original image posted.